February 2022, Year XIV, n. 2
Stefano Bonaccini
Don't Call Me Governor
"I have never liked using the word 'governor' for the role of the President of the Region. I don't use it and I don't think I ever will."
Telos: Just as the English "premier" is not provided for – neither the name nor the powers nor the roles – under the Italian Constitution, likewise governors have no place in our system. In Italy, the only one who can boast this title is the governor of the Bank of Italy. Although not accurate and a reflection of how American terms have taken over the Italian media, don't you think that the word "governor" describes well someone who, according to the word's Latin meaning of "guide, ruler," governs with great political responsibility?
Stefano Bonaccini: To be honest, personally I have never liked using the word "governor" for the role of the President of the Region. I don't use it and I don't think I ever will. You are right. It is a title that is foreign to our system that we have borrowed from the United States, where governors have very different roles and competences as leaders of federal States. I don't know if I am a "guide". I certainly feel a daily sense of responsibility and privilege as the leader pro tempore of a community as rich in values, resources and knowledge as Emilia-Romagna.
In these challenging times, with the crisis of the pandemic and healthcare that has wreaked havoc on our lives over the past two years, Regional Presidents have become even more important as points of reference, and what I try to do is represent everyone, regardless of their politics or geographic origin, by trying to create balance, listen and lend authority far from the theatre of politics, fraught with polemic and insults, which by now everyone is tired of. This is how I interpret this role, which for me is a great honour. As a boy I dreamed of being a footballer. If anyone had ever told me I would lead my Region, I never would have believed it.
Many people point to the crisis in the party system as the source of widespread anti-political sentiment. Yet this gap between citizens and politics seems less obvious at the local level. Are people in your Region still passionate about politics?
At the local level it is harder to avoid citizens' judgement. The distance between them and politicians, and even more so between them and the administrators, is smaller. So, whoever covers these roles is judged on an almost daily basis. It is necessary, if not a duty, to work better. For a long time, I have been asking my political party to give more space within its governing bodies to administrators operating locally. Most of them are very passionate, they know the ropes, they understand the importance of dialoguing with people, they are very competent and often have a concrete vision of the issues, without losing sight of the values they believe in. This is why, when possible, I try to get out and about: I am convinced that listening and being among the people is the most important thing for someone who strives to serve their local area. This does not automatically mean you are a good administrator; however, if you are not out among the people every day, without listening and accepting their criticism and suggestions, you certainly have no hope of making it.
President of the Emilia-Romagna Region on his second term, re-elected in January 2020 after a tough but effective election campaign. What lessons did you learn in the first five years? What would you do again and what not? Could you illustrate this using an anecdote?
That was 2020, but it is as if a century has gone by. The virus has totally upset our work schedule for this second term and, naturally, has changed our intervention priorities completely. We were about to reach 4% unemployment, which the experts consider a normal unemployment rate, essentially full employment, then we found ourselves with 90,000 fewer jobs, mostly for women and young people. Over half of these have already been recovered in the last months. Today, this is our priority: to recover and guarantee quality jobs, attract investment, build a sustainable future and respect for the environment ­– we, first and foremost, have done too little on this last issue – invest in knowledge, starting with the Tecnopolo project in Bologna, which will become one of the most advanced supercomputing centres in the world and will allow Europe to compete with the Chinese and American giants. We learned our most important lesson in our experience with the Job Pact, an unprecedented experiment, carried out during my first term.  The Job Pact was an agreement between all the social parties, employers, institutions and universities to track regional development axes together and share in all decision-making. The results were excellent. Before the pandemic, Emilia-Romagna grew every year economically and had the highest pro-capita exports in Italy. This is why we renewed this agreement and extended it to more subjects, including associations and volunteer organisations. But most importantly we extended, with 55 signatures representing all the social parties and regional businesses overall, the new Job and Climate Pact. The climate emergency is the priority for our planet, the most precious asset we have. The ecological transition, along with the digital one, that not surprisingly are also the pillars of NextGenerationEU, will be the guiding star of each of our policies. Our objectives are clear: 100% renewable energy and decarbonisation of the Region by 2050, but I count on achieving that before then. And if we continue to work together, I trust we will. I will also add that the social pact many are hoping for at the national level is already a reality in Emilia-Romagna.
For a long time now, in many countries, the relationship between the central State and local governments has become a great source of institutional tension. Here in Italy, many times in the handling of the Covid-19 emergency, there was clearly conflict between the Government and the Regions. How much of this stemmed from pre-existing problems? And what can be done to overcome them?
To tell you the truth, that is not what happened. Actually, it was quite the opposite. From the beginning of the pandemic and during the toughest moments in the healthcare emergency, the Regions agreed with the majority of the government measures. We are talking about 97.98% of the national provisions and decrees. I can safely say this because, at the time, I was the head of the Conference of the Regions and, with the exception of some minor differences, we have worked very well with all governments that went by. I understand that polemic is what makes it to the papers, but these are the indisputable facts. Having said this, I think that relations between the central State and the Regions can and must be better coordinated by clarifying the nature of some responsibilities, but mainly by delegating a broader scope of action to the Regions. Going back would unthinkable. I have read statements by people who want to go back to the central management of healthcare, but whoever supports this should come explain this to the people of Emilia-Romagna: they would be the first to object, not I. As the Region of Emilia-Romagna, a while back, we submitted a request to the Government for differentiated autonomy in some specific areas. We are not asking for a euro more from Rome. Actually, we are even willing to give up some funds if, in exchange, we are given, for example, the possibility to decide the number of teachers in our schools or the research and support policies for the industry. This is not arrogance, it is the awareness that, when it comes to certain issues, we would be faster and better and this benefits citizens and businesses.
Marco Sonsini
Editorial
"As a boy I dreamed of being a footballer. If anyone had ever told me I would lead my Region, I never would have believed it." This statement by Stefano Bonaccini, President of the Emilia-Romagna Region for a second term, does not surprise us. Perhaps, deep down, many Italians have dreamt of becoming a football player, then, like Bonaccini, went on to play amateur football even into adulthood, turning into passionate fans (many) and international football experts (only a few). This passion often comes out even in his political rhetoric. For example, when introducing his new executive committee after getting re-elected in 2020, he referenced the Italian football coach Arrigo Sacchi: "This will be a 'Sacchian' executive committee, all offense and pressing. People said Sacchi's game was beautiful: I'd like to see beautiful government." In this interview for PRIMOPIANOSCALAc, not only does Bonaccini share our linguistic resistance to the use of "governor" to refer to Regional Presidents, he talks about the importance of good local administration to close the gap between the Italian people and politics. He believes so much in the quality of local administrators, in how concrete and capable they are of remaining close to citizens, "without losing sight of the values they believe in" that he asked the Democratic Party to give them more space in the party's governing bodies. He was far more direct about this in an interview this summer for Italian news daily Il Corriere della Sera: "Not because we're red, but because we have a model of social relations that I think deserves attention. This relationship with the local area is the reason why I suggested to Letta (TN: Democratic Party Secretary) that more space be given to local administrators. Too often I hear national leaders say things as if it had been years since they went to a factory, a school, a café or a market."A jab at a political class that is more and more cut off from reality. This is why his clear, sometimes dogmatic but never arrogant way of talking about his party is often accused of having ulterior motives. What are they? Leading the Democratic Party at the national level. People have long been whispering about this, but so far these rumours have not proven to have any basis in truth. What is clear to everyone, however, is the massive amount of work Bonaccini has done and is doing as the leader of the Emilia-Romagna Region, without clamour but at a consistent pace. #UnPassoAvanti (TN: a step ahead), the hashtag from his 2020 election campaign, was a step ahead that was abruptly stopped in its tracks by Covid: "That was 2020, but it is as if a century has gone by. The virus has totally upset our work schedule for this second term and has naturally revolutionised our intervention priorities." Yet in spite of the virus, Bonaccini tells us that: "the social pact many are hoping for at the national level is already a reality in Emilia-Romagna." He proves us wrong about the pandemic bringing out even more clearly the disagreement between the central government and the Regions, without forgetting to point out that regional autonomy must be fiercely defended and even strengthened.
The battle he is waging, with his fellow Regional Presidents of all political colours, regards a framework-law on autonomy. It is not a request for more money, but that Regions be given and guaranteed the opportunity to plan interventions with less red tape. "Over the years we have shown that we know how to better manage state resources," Bonaccini argues. "What I would like to see is a measure that is recognised in the Constitution, which has already been through important steps with the signing of the pre-agreement during the Gentiloni Government."
Oh, do not criticise their President to the people of Emilia-Romagna: his approval rating in July 2020 was 54% and in July 2021 went up to 60%. According to a survey by Italian news daily Il Sole 24 Ore, which publishes annual administrator ratings, Bonaccini exceeds the approval rating recorded on the day of his election in January 2020 by 8.5%.
The new cover graphics for PRIMOPIANOSCALAc continue this month with the almost oneiric, pop look, showing the face of the person interviewed with all the symbols of their work, role and life arranged in a collage around their head like a sort of hat. Like in a collage, the images are juxtaposed, without elaboration.
Some of the symbols we have chosen for Bonaccini are parmesan and tortellini, the Juventus football club and Modena Volley, Bologna, Ferrari, books, a cinema pizza and "the man who changed his life because he inspired him to experience politics and the institutions with extraordinary morality and rigour."
Mariella Palazzolo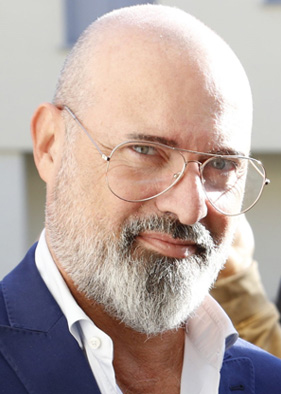 Stefano Bonaccini: is the President of the Emilia-Romagna Region, elected for the first time in 2014 and re-elected in 2020 with a centre-left coalition. In 2010 he became Regional Councillor and, that same year, was appointed Regional Secretary of the Democratic Party for Emilia-Romagna. Previously, in 2009, he was elected to the Modena City Council and from 1999 to 2006 was an Assessore, i.e. a member of the Modena City government. He first held political office in 1990 when he was appointed Assessore for Youth policy for the City of Campogalliano (Modena), his hometown. From 2015 to 2021 Bonaccini was President of the Italian Conference of the Regions and, since 2016, has presided over the Council of European Municipalities and Regions, created in Geneva in 1951. It is the oldest and broadest European association of local and regional governments. Stefano loves cinema and literature (he reads at night!), and he has even published two political essays: in 2020 "The Right Can Be Defeated: From Emilia-Romagna to Italy, ideas for a better country" and, in 2021, "The Country We Want: Ideas and proposals for the future Italy." He is passionate about football, both national and international, and also played football for various local teams, as a forward, until he was 38. He is a fan of Juventus and Modena. And when he can, he doesn't miss a game of Modena Volley. He loves geography and devours guidebooks, even though in recent years he has often given up his leisure travel. Instead, he travels a lot for work, throughout Europe and the world. His favourite foods are ­– ça va sans dire ­– tortellini and Parmigiano Reggiano. Bonaccini is married to Sandra and has two daughters, Maria Vittoria and Virginia. He is 55 years old.
Marco Sonsini