March 2019, Year XI, n. 3
Dario Nardella
The Violinist Mayor
"We cannot forget culture. Since the outset of my term I kept this appointment for myself because I believe Florence is such an important cultural asset, full of honours and responsibilities that only the Mayor himself can take on."
Telos: Every time someone talks about the direct election of the Prime Minister, people use the very evocative expression "Mayor of Italy". So, is it true that a mayor has, in the administration of his or her own city, more power than the Prime Minister has today?
Dario Nardella: I wish, is how I'd answer. But let's be serious. By providing for the direct election of the mayor, the 1993 electoral reform made mayors far more visible than they had ever been before. The role of the "first citizens" (as mayors are called in Italy), who were already in direct contact with the people under their administration, became so important that, over the years, groups have formed for various reasons that are comparable to a "mayoral party". Finally, the establishment of the Metropolitan Cities also contributed to expanding the role and boosting the visibility of the mayors of the main Italian cities. Unfortunately, this closeness to their constituency – which entrusts all their dreams, hopes and discontent to the mayor, even when they cannot be directly attributed to him or her – is not in line with the administrative "powers" the mayor has. Let me give you an example, over the years our administration has been at a standstill because of the Stability Pact or burdened by cuts in state contributions. But the recommendation is always the same: I actually believe that there's nothing like local administration to learn about how to govern and to avoid losing touch with the citizens, so with reality, which is perhaps one of the greatest challenges in high-level policymaking.
The breakdown in the party system has likely been the source of people's widespread anti-political sentiment. And yet this gap between citizens and politics is not nearly as wide when it comes to the Mayor. Are you still able to get your citizens passionate about politics?
Absolutely. I notice it every time I take part in a public event, even just going around the city. I see and hear a lot of enthusiasm, people's longing to really take part in the life of the city as well as in its decision-making process. I also hear a lot of criticism, of course, but it's constructive criticism, not just mudslinging for its own sake without offering any concrete. This is why, during my term, I made a lot of room for meetings with the citizens, for "listening marathons" on various topics, for surveying worksites, spending time with the people, either me personally or the members of my Executive committee. Citizens can get in touch with me in various ways, from letters to email to social networking sites. And believe me, a lot of people have made suggestions about the city: a sign that people's love for Florence is very sound and represents the essence, the DNA, of the Florentine people.
Almost 5 years have gone by since you were elected in June 2014 leading a centre-left government. What were the main points in your government programme and which of these have you managed to achieve for Your Florence?
Florence truly is experiencing a "Renaissance", with lots of projects that have been designed and carried out. Take the tramway, for instance: just a few years back, Florence was grappling with the worksites whereas today it boasts a modern, competitive, functional and environmentally-friendly transport system with three lines connecting citizens and tourists from one side of the city to the other. On top of this, the administration has invested heavily in electric transport (with almost 400 recharge stations throughout the city, one every 1,000 inhabitants) as well as car sharing, with 650 cars, 250 of which are electric, and bike sharing, with 4,000 bikes for rent and 100,000 users. We have also got 90 km of bike paths – and aim to raise that number to 110 km in 2020 – in addition to a 400,000-m2 pedestrian area. So, we want a city that is increasingly more sustainable and "greener". But if I think about Florence's "Renaissance", urban planning also comes to mind: lots of abandoned spaces, "black holes" scattered throughout the city, are being used in new ways: from the Student Hotel to the Manifattura Tabacchi (formerly a tobacco-processing complex), many spaces are being restored and are now bustling with new life, social activity and vitality once again for everybody to enjoy. We cannot forget culture. Since the outset of my term I kept this appointment for myself because I believe Florence is such an important cultural asset, full of honours and responsibilities that only the Mayor himself can take on. Over the past years, we have envisioned culture as something more and more widespread and inclusive and have opened new exhibition spaces – from the newly created Museo Novecento [20th Century Museum] to enlarging the Santa Maria Novella complex – and organized large festivals like the Estate Fiorentina [Florence Summer Festival], a melting pot of events from May to October; or festivals like the Jazz Fringe in Oltrarno, Strings City and Firenze Rocks. In order to take stock of these last 5 years, we asked a third party – DEPP, a company working in the area of open government projects and transparency in public administration – to draw up a report. According to this report, we have carried out 251 of the strategic actions in our programme – that's 83.27% – whereas 11.95% are still underway and only 4.78% have yet to be carried out. There is still a lot that needs to be done and we will get it done in our second term, if we are elected. But in the meantime, I would like to sincerely thank all the employees of the city administration for this outcome, from the director general to the staff, who have all been working hard non-stop to reach a goal that is, first and foremost, their goal.
Last June you said, "I haven't bought a ticket to Rome or Brussels because I like being here in Florence and I want to stay, because I like it here with my citizens and I think my citizens like it here with me." Elections will be held by May. Why did you decide to run again?
Not only have I not bought tickets for Rome and Brussels; I even sent a one-way ticket to Rome back: actually, in 2014 I was a parliamentary deputy and resigned to go back to my hometown and run for mayor "without a parachute". It had been an intense year serving my country, and I could have gone on. But I decided to get back out on the field and help my city. Now the spirit is that of five years ago, but there is something else we know: that the change we have set in motion in Florence needs at least another five years to be fully achieved. The desire to radically impact the liveability, modernisation and sustainability of a city is not something that runs out over the course of a legislature. We have the courage, passion and heart-felt desire to go on – if the people of Florence still want to give me their trust – on the path that has already been mapped out.
Marco Sonsini
Editorial
Dario Nardella, Mayor of Florence, is our second guest in what we, at Telos A&S hope will be a long series of interviews with Italian and foreign mayors with PRIMOPIANOSCALAc
His first, fleeting term kicked off with a milestone in these last years of Italian political history: Matteo Renzi went from being the Mayor of Florence to Prime Minister in February 2014.
Before resigning as Mayor, Renzi appointed Nardella as Deputy Mayor, tasking him with spearheading the administration until the elections scheduled for May 2014.
On 25 May 2014, during the city elections he got 59.15% of the votes, officially making him the Deputy Mayor of Florence.
The legacy of Florence mayorship that he must carry on is an important one, and its beacon is 3-term Mayor Giorgio La Pira.
Like Nardella, he was not a Florentine by birth either. However, his clear, manifest love for this city are what made him – in the eyes of the more "difficult" Florence natives – more Florentine than they were.
La Pira is remembered as the "Mayor Saint" or the "Mayor of the Poor", but there is something about his political history that not many people know about: the value of the cities.
La Pira defined cities as "assets handed down from past generations to which the present generation is the fiduciary heir: the ultimate beneficiaries of this inheritance are the future generations (…). No one is entitled to destroy them: we must preserve them, improve them and pass them down again; they aren't ours, they belong to others."
In Florence he is remembered for saving the Nuovo Pignone iron foundry, the Centrale del Latte [Central Dairy], his struggle to provide families with homes and work, the Isolotto district and for systematically paving the city.
And Nardella's first term? How will it be remembered?
There is no way for us to know yet; however, there is one thing we do know: Mayor Nardella, as he mentions in his interview, commissioned an end-of-term report and published it on the website of the City of Florence.
This report describes the government actions, which are on the electoral programme, that have been carried out and those that have not. He did not do anything out-of-the-ordinary, nor did he do it just to get votes: the obligation to provide an end-of-term report is set out in Art. 4, Legislative Decree 149/201. Yet until today, as far as we can tell, Nardella is the only mayor to have commissioned one – by a third party – and published it.
But his most defining action, and therefore the most memorable one in our opinion, was the building of the tramway. Next, Mayor Nardella talked to us about how much he values culture, but he did not mention his love for music and his past as a violinist, a past that has deeply influenced how he interprets his work as a politician.
In a recent interview, he said, "Music teaches you to listen, before it even teaches you to play. When I played in the orchestra, I had to pay attention to the sound around me, the sound made by my colleagues. This is what music taught me, and I have brought this into politics. A politician has to be familiar with silence as well. In some pieces, the silent pauses are more important than the parts that are played." And this is why we have defined him as the "violinist Mayor" who hopes to continue his symphony of actions brought to completion for his city, during a second term. Whether or not he succeeds will be up to the electors next May.
The image chosen for the cover of the interview with the Mayor of Florence is its fleur-de-lis, the symbol of Florence since the 11th century. That's so blah, you must be thinking. No way! Florence's lily is white and purple because purple has been associated with Florence since the Renaissance, since some wealthy textile merchants, the Rucellai family, made their fortune on a wild herb discovered by one of their ancestors, Alemanno del Giunta. Legend has it that on a journey to the Far East, Alemanno got off his horse to relieve himself. Just then he noticed that upon contact with his urine, a wild herb growing around the patch of ground slowly began to turn a distinctive purplish colour: a powerful, bold purple that nobody had ever seen before. Lorenzo the Magnificent chose purple as the colour that would represent him.
The fleur-di-lis of Florence on the gonfalone, the flag of Florence that hangs inside Florence's city hall, was originally white against a red background. However, the colours were switched to red against a white background in 1266 by the Guelphs, backers of the Pope, after they drove out the Ghibellines, who supported the Holy Roman Empire. And this time there's no local saying on the cover, but rather a verse from a poem written in prose that Dino Campana dedicated to Florence in his book Canti Orfici (1913).
And we'll give you the whole book, but please read at least page 43.
Mariella Palazzolo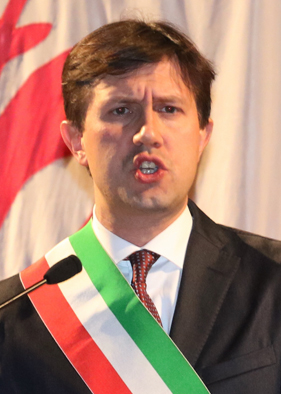 Dario Nardella has been the Mayor of Florence since 2014. He was elected for the first time as a City Councillor in 2004. Deputy Mayor since 2009, during the February 2013 political elections he was elected to the Chamber of Deputies of the 17th Legislature, where he served on the Industry, Trade and Tourism Committe for Economic Activities, Trade and Tourism until he resigned in February 2014 to return to Florence at the behest of Matteo Renzi to serve as acting Deputy Mayor and later to run for Mayor. Since January 2015 he has also been the Mayor of the Metropolitan City of Florence. He is not actually from Florence, though. He was born in Torre del Greco in the Naples province and then moved to Florence in 1989. In 1998 he graduated in violin from the L. Cherubini Conservatory of Florence and until 2004 worked as a professional musician. He graduated with a law degree from the University of Florence, from which he also earned a PhD in public law and environmental law and later taught Legislation of Cultural Heritage. During the last Prodi government (2006–2008), he served as legal counsellor to the Minister of Parliamentary Relations and Institutional Reforms, Vannino Chiti. As mentioned above, in 2004 he had his first experience on the Florence City Council, where he was the chairman of the Fifth Council Committee o on Culture, Education and Sport. In 2009, as a newly elected City Councillor, he served on Mayor Matteo Renzi's Executive Committee as Deputy Mayor appointed to Economic Development and Sport. In this capacity, he presided over the sponsorship committee that led Florence and Tuscany to be awarded the 2013 UCI Road World Championships. In 2005, along with Prof. Enzo Cheli, Prof. Leonardo Morlino and other friends and university colleagues, he founded the Eunomia Foundation, which he still directs today. In 2008 he was selected as a young Italian politician by the US State Department to take part in the International Visitor Leadership Program.
In 2012 he was appointed Chairman of the ANCI Committee (Association of Italian Municipalities) for economic activities. On 21 June 2014 he was elected ANCI coordinator of the Metropolitan Cities of Italy.
Nardella's wife's name is Chiara and they have three children: Cosimo, Amelie and the youngest Francesco, born the day after he was elected Mayor in 2014.
Marco Sonsini