October 2020, Year XII, n. 10
Hillary Schieve
The Strong Mayor
"Municipal governments in the United States are characterised as having either 'strong' or 'weak' Mayors. The term is not a judgement of effectiveness, rather it distinguishes the level of political power and administrative authority assigned to the Mayor in the Municipal Charter."
Telos: In Italy, the Prime Minister is indicated by Parliament. However, every time there is talk of changing the Constitution and introducing the direct election of the Prime Minister, people use the expression 'The Mayor of Italy'. This shows that Mayors have more power to impact on their citizens' everyday life than even the Head of the Government. Does this also apply to the U.S.?
Hillary Schieve: There are 19,429 municipal governments in the United States, that are characterized as having either 'weak' or 'strong' Mayors. The term is not a judgement of effectiveness, rather it distinguishes the level of political power and administrative authority assigned to the Mayor in the Municipal Charter. In practice, there is no sharp category that distinguishes between 'weak' and 'strong' Mayors, but rather a continuum of authority and power along which Cities are spread. However, the designation of 'weak' and 'strong' are useful in showing the variations in mayoral authority that exist. Most 'strong' Mayors are in the Mayor-Council form of government, and are directly elected by citizens to that office. Most 'weak' Mayors are in a council-manager form, and are elected from within the City Council.
In Reno, we have the 'strong' Mayor system, therefore, I am the chief executive officer, centralising executive power; I direct the administrative structure, appointing and removing department heads; I oversee daily operations, while the Council does not. It has legislative power, whereas the Mayor has veto power.
The United States has a long tradition of caring for our citizens, neighbours close to us. Our governmental system is set up for local control to have the most direct influence on the lives of our citizens. In Nevada, that individualism is a hallmark of our State. We love being Reno-first!
The crisis of the political parties is probably the origin of the globally spread anti-political sentiment. However, this theory seems to be less true in the relationship between citizens and Mayors. Do you agree?
Yes, I do! I think there's more direct accountability for Mayors. Our citizens see us in the grocery store or taking our kids to school. We're closer than anyone to the city's needs and the demands to make things right. It's smaller government than Washington, D.C., but I argue our connection to the community is stronger. This is the reason why I claim that Mayors need a bigger voice in Washington, we need a seat at the table in Washington, to be able to discuss the national issues that are causing 'sheer panic' for our constituents.
We define anti-politics as citizens' negative sentiment towards the activities and institutions of formal politics (politicians, parties, elections, councils, parliaments, governments). Anti-politics, I think, should not be confused with healthy scepticism towards formal politics, which I see as an essential component of democracy. While in the U.S. there is much evidence of negative sentiment towards the institutions of formal politics, I've not experienced such feeling towards role of the Mayor. I believe that there is a need to listen more to what citizens say about politics and they should be allowed to speak in their own terms on the subject.
Reno was best known for its casinos, lax divorce laws, and as one of the most business-friendly cities. But thanks to your work, it has become a hub for tech entrepreneurs and companies, attracting coders and data analysts from Silicon Valley. How did you manage to reach this goal?
By simply selling ourselves. Reno continues to evolve. We haven't lost the tourist attractions and year-round outdoor adventure. We've enhanced them by making Reno a place people want to visit and then move here. Our regional agency, the 'Economic Development Authority of Western Nevada', is always pounding the pavement looking for businesses who want to find a new home. EDAWN is a private/public partnership established in 1983 committed to adding quality jobs to the region by recruiting new companies, supporting the success of existing companies, and assisting newly forming companies, to diversify the economy and have a positive impact on the quality of life in Greater Reno-Sparks. We show the success that can be achieved here. It's a huge goal for us to keep this engine going.
We are now a hub and destination for all businesses. But our growing technology sector especially comes to mind. For example, Reno has become a 'drone zone.'
I was thrilled when the City of Reno and Flirtey were selected by the federal government to be a testing ground with the Federal Aviation Administration (FFA) by beating out some pretty hefty competition. NASA and the Nevada Institute of Autonomous Systems are also working with the FAA and the Reno-Tahoe Airport to discover ways to make planes and drones connect, and keep our skies safe. Making the entire nation take notice. Pretty amazing!
Once again, we are keeping our eye on the ball when it comes to City finances, receiving national accounting awards. I'm proud to report Standard & Poor's gave us another upgrade of an A+ bond rating, noting that our stability is a huge asset, due to strong financial management and good financial policies. This has resulted in some of the strongest liquidity in our city's history. This impressive track record has allowed us to increase our credit rating to refinance all outstanding bonds, including our train trench bonds, at lower interest rates, giving us a huge advantage to taxpayer savings.
You were elected Mayor of Reno in 2014. Your administration is known for its continued efforts to promote affordable housing, mental health services, and the fight against homelessness. Can you please tell us what the biggest challenges you have been facing in your office are, and what the priorities for the next two years of your term are?
First, we have to contain and control the Coronavirus. It affects everything we do, and our city has responded with science first. Our budget losses haven't been as large as expected, and luckily that helps us preserve our services to the public. We can't abdicate those duties even during the worst crisis. Luckily, we continue to have a high number of more affordable housing projects in the works. That lifts up newcomers and current residents alike. Our '1,000 Homes in 120 Days' project helped defer start-up fees for home builders. We had nearly 4,000 houses and apartments offered by the development community. That's a good sign that we can keep making Reno a destination for everyone.
Getting creative is really important. It's not just our City. It's every City I talk to, a lot of Mayors across the country and we're all facing this challenge. It's important that a Mayor seeks out those partnerships with other developers to create affordable housing because it's very challenging to do so in this market because land is super expensive. Well, guess what? The City can come to the table with land and that makes it a lot more doable.
About homelessness. Reno, along with many other western cities, has seen a spike in the number of homeless individuals living on the streets or along the banks of the Truckee River. In the past, the City of Reno has tried to go it alone to fix the problem and it just wasn't working. We can't do it alone. We have to have our regional partners to tackle this. That's the City of Sparks, Washoe County, and the City of Reno. So, we have decided to consolidate on that effort.
Is this enough for the next two years of my term?
Marco Sonsini
Editorial
Hillary Schieve is the Mayor of Reno, Nevada, the 'Biggest Little City in the world': natural assets and expanding infrastructure make 'little city' Reno a big-time destination for visitors and talent. A casino town goes all in on art, culture, and innovation. Is it any wonder that young talent is pouring in?
Tesla opened its "Gigafactory" battery plant in 2016 and Amazon and Google-parent Alphabet have campuses at the Tahoe Reno Industrial Center, one of the largest industrial parks in the world. That has opened the cheap land rush, fuelled by the Nevada tax breaks, resulting in municipal estimates that almost 15,000 jobs were created in the region between 2018 and 2019. The presence of growing corporate offices and their workforce are breathing new life into the local economy, which is good news for everyone, from homebuilders to street artists.
However, not all that glitters is gold. The activist project 'Our Town Reno' has as one of its taglines, 'as Reno rebrands, what happens to our most vulnerable?'. Mayor Schieve's reply is very direct: "You have to have compassion with action, right? Because it has to be balanced. I think that they really pay attention to our most vulnerable, but if we're going to really help those people, we have got to stop being last in the country on mental health and start funding mental health and start funding the fight to addiction. And that is one of my big initiatives. I created the Mayor's Board on mental health and addiction. We have to talk about mental health more, we can't brush it under the rug, but it's got to be about services".
The interview with Schieve is long and full of ideas. She describes the differences in power between the 'strong' mayor and the 'weak' mayor of the United States, her ideas on anti-politics and the reasons why Mayors are often exempt from it, how and why Reno has become so attractive to companies, but above all, it focuses on the challenges of Covid-19 which, together with the 'old' ones, will certainly give her a good deal of work in the next two years of her term.
This time I don't just want to comment on the interview, but I want to talk about something Schieve doesn't mention, maybe because she thinks it's too frivolous. In 2018, she was named one of the Top 10 Fittest Mayors in America and thanks to this 'award' we learnt that she was slated to go to the Olympics, but couldn't because of her health: she experienced a kidney failure from an untreated strep throat infection. Her sister Amanda donated her kidney, saving Hillary's life, and after that her priorities changed. So that's actually where she got her start in government. She became a lobbyist for organ donation 'because 18 people die every day waiting for an organ transplant in this country'. She started to lobby and went to Washington and got interested in the political side of things, and by the time she had gone through her illness, she became a little too old to compete, but not too old for the political arena!
The cover of the interview with Schieve, where the initial letter of the city merges once again with the animal that represents it, reveals the sinuous charm of the rattlesnake. It is one of the most dangerous snakes in the world. Unlike other snakes, it does not flee when the enemy enters its territory. It usually (not always!!!) moves its tail and, with the sound of its rattles, warns enemies of the danger they are running. If the enemy does not retreat, it attacks. When it bites, it is able to voluntarily dose the amount of poison to be injected into its prey. The one on the cover is the Western diamondback rattlesnake or Crotalus atrox (

), the largest of the Nevada rattlesnakes with a length between 120 and 150 cm. Awesome!
Mariella Palazzolo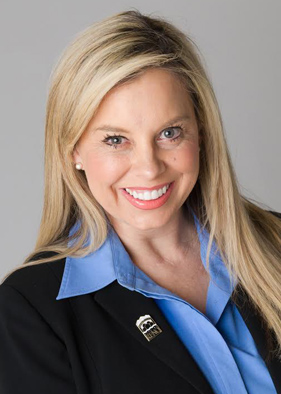 Hillary Schieve has been the Mayor of Reno, Nevada, since 2014. Previously, in 2012, she was elected to the Reno City Council. She is not affiliated with a political party, but she received support from the Democratic Party prior to winning the mayoral election.
Schieve is a businesswoman, and in 2011 was awarded by the Reno Gazette-Journal's (RGJ) "Entrepreneur of the Year". She built on her business expertise in her role of Mayor to help eliminate bureaucratic red tape and spur job creation. Also, she has been focused on economic growth, public safety, regional cooperation and senior services. One of the major issues Schieve has dealt with is the reformation and revitalization of downtown.
The magazine Politico named her among the "America's 11 Most Interesting Mayors" as Reno is "becoming a hub for tech entrepreneurs and companies, pulling coders and data analysts from far more expensive Silicon Valley four hours to the west."
In 2017 she was appointed as the Chair of the Standing Committee on Tourism, Arts, Parks, Entertainment, and Sport of the US Conference of Mayors and in September 2019 she was named Elected Arts Advocate of the Year by the regional development authority EDAWN.
Schieve is eligible to run for re-election in 2022 for a third and final term.
Hillary is an activist for organ donor awareness after her sister, Amanda Sanchez, donate her a kidney. She was also awarded the "Humanitarian Award," as she was recognized for being an outspoken public advocate for diversity and equality for all underserved groups.
Marco Sonsini