March 2021, Year XIII, n. 3
Leoluca Orlando
The Multicultural Mayor
"I've had a lot of experiences in politics, but I've never had, nor will I ever have, a more fascinating and wearing political engagement than that of being Mayor."
Telos: Every time someone talks about the direct election of the Prime Minister, people use the very evocative expression "Mayor of Italy". So, is it true that Mayors have, in the administration of their own city, more power than the Prime Minister has today?
Leoluca Orlando: Mayors directly elected by citizens have one political possibility: to think of the city they administer as their party… this is the only way for them to be positively received by those who haven't voted for them and, often, negatively received by traditional party leaders who belong to stiflingly closed groups.
Mayors directly elected by citizens have one constructive possibility: to act as educators and create either a positive or negative climate… but to do this they need to have vision… be it positive or negative.
Mayors directly elected by citizens also have one other powerful possibility: they have more freedom than the Prime Minister because they don't have an army and they don't print money.
The breakdown in the party system has very likely been the source of people's widespread anti-political sentiment. And yet this gap between citizens and politics is not nearly as wide when it comes to the Mayor. Are your citizens still passionate about politics?
If we want citizens to be passionate about politics, politics cannot be "something else". If people think (both citizens and politicians) that morality is one thing but politics is "something else", that science is one thing but politics is "something else", that sports and art are one thing but politics is "something else", that life is one thing but politics is "something else"…
When politics is "something else", we get bad politics, and citizens think politicians are aliens, that they don't deserve to be trusted, that they aren't normal people with the same strengths and weaknesses of all normal people.
I've had a lot of experiences in politics, but I've never had, nor will I ever have, a more fascinating and draining political engagement than that of being Mayor.
One thing that stands out in your political history is that you have been the Mayor of Palermo six times. How has the city changed since 1985 when you first headed your "Six-party Executive"?
Perhaps that even today the time of my first administration, when many of my choices were judged controversial, is still remembered as the "Palermo Spring".
It's called the Palermo Spring because of the flourishing of political, social and cultural initiatives, because citizen associations and committees were created that were committed to cultivating a culture of lawfulness to contrast the culture of the Mafia.
And yet that long spring ended with my resignation in 1990: was I wrong in being overly ambitious and trying to change things without creating a rift within Christian Democracy in Palermo? Maybe. But I've never given up.
The city has changed over these forty years in terms of how the people of Palermo think and live. In the Eighties it was the capital of the Mafia; but in 2018 it became the Italian Capital of Culture, it hosted the 12th European Biennial of Contemporary Art Manifesta, it was one of the top five cities for tourism in Italy. It was put on the UNESCO world cultural heritage list because of its Arab and Norman history. It's known the world over for being welcoming to foreigners. Isn't that enough?
Your last term began in June 2017, so after almost four years you can realistically take stock of your work. What have you accomplished on your election programme and what is still on the to-do list?
One goal we've achieved that is particularly important to me, as I mentioned before, is that we brought culture back to Palermo.
The fact that a city located in the continent's deep south – a city that managed to free itself of its recent history of Mafia, violence and abuse of power – could serve as a cultural bulwark of the foundational values of Europe, was a real provocation.
Placed in the centre of the Mediterranean, "my" city is at the southern tip of the European continent, it's on the line that brushes the northern tip of Africa and the Middle East to the northwest. But Palermo certainly isn't Berlin, or even Paris. Palermo is a Mediterranean city. Not only that, it's a Middle-eastern city within Europe. Yes, in some ways, Palermo is like Tripoli or Beirut, but with streetcars that work and the best wire-based communication network in Italy, along with Milan.
Today, Palermo welcomes everyone and has put respect for human rights on its horizon. It is a city of people who have been through painful migrations northward and to other continents, for a long time it rejected incoming migrants, it humiliated and drove out those who were different.
So, I can say: Mission accomplished. If I die tonight, I'll die satisfied.
I contributed to changing the culture of my city. Mission accomplished, but not complete. This mission will be completed by a successor with the same vision who can overcome all my shortcomings and uncertainties.
Whoever follows me may also discredit my vision: This is the strength and limit of democracy… and fortunately we live in a democracy.
Marco Sonsini
Editorial
Like bloodhounds, we've been pursuing, begging, pleading, almost stalking him and finally… he agreed! PRIMOPIANOSCALAc's guest this month is long-time Mayor of Palermo Leoluca Orlando, giving us the opportunity to return to our ever-popular interview series featuring Italian mayors (#InterviewsWithMayors).
He has led the city from the Palazzo delle Aquile (the "Palace of the Eagles") for six terms and has proved to be a trouble-making, pot-stirring yet never boring tenant.
One of his hallmarks is his struggle for a multi-cultural Palermo, and the importance of multiculturalism to the city may even be seen in its lay patron: the Genius of Palermo.
Once through the foyer and portico, you come to the grand stairway of the Palazzo delle Aquile, where on the first landing leading to the first floor there is a statue of the Genius of Palermo, also called "U nico" in the local dialect or "Panormus" in Latin. The statue bears a well-known Latin inscription: "Panormus Conca aurea suos devorat alienos nutrit" or "Palermo the golden dell, devours hers and feeds the foreigners", emphasising the city's hospitality and openness to newcomers.
When he has visitors, before beginning any meeting, Mayor Orlando always stops in the magnificent antechamber where since 2018 a large Koran, with writing in gold leaf, has been on display, on special loan to present the world premiere of the project to rebuild the monuments destroyed during the 2013 conflict in Aleppo, Syria sponsored by the Aga Khan Trust for Culture. Orlando' political story has transformed him into a living monument, and not only in Sicily: starting with the oath he exchanged with Sergio Mattarella over the corpse of his brother, Piersanti, for whom Orlando acted as legal advisor, after he was assassinated by the Mafia on 6 January 1980 in the centre of Palermo.
In fact, Orlando is a law expert. He studied at the University of Palermo, then in Heidelberg, where he began exploring the thought of important figures like Martin Heidegger and Hans-Georg Gadamer, who he declared an honorary citizen of Palermo in 2000. In his public life, he has forged important international relationships; he speaks and writes books in English and German; his fellow citizens even call him "The professor". But none of this would have been possible without his natural proclivity to politics. Many may remember his resignation in 1990, the last year in an extraordinary period called the "Palermo Spring".
This long spring came to a screeching halt in the sweltering August heat: with the city government's support for his resignation and the applause of his fans, Palermo abruptly turned the page, shifting the onerous legacy of the biggest rabble-rousing Mayor in Italy over to a totally unknown court official from Caltanissetta. But not for long.
Today, Orlando argues that, technologically speaking, Palermo has one of the best wire-based communication systems (tech!) in the Mediterranean, yet it is still a human city where "(…) there are no 'migrants'. Whoever lives here is a citizen of Palermo, they belong to just one race: the human race."
A key moment in this process was the 2015 approval of the Palermo Charter, which focusses on the right to international mobility.
What is more, Palermo is representative of the triumph of Mediterranean culture, a symbol of multiculturalism, co-existence and aesthetic beauty.
Orlando tells us: "One goal we've achieved that is particularly important to me, as I mentioned before, is that we brought culture back to Palermo. (…) If I die tonight, I'll die satisfied. I contributed to changing the culture of my city." Now that's saying something!
Even the cover of our March issue of PRIMOPIANOSCALAc shows a white page torn to reveal a section of our monthly interview in both Italian and English, with an insect looking up at the words.
For Orlando, who was defined "The mayor of beauty, real beauty, sometimes imperfect but generating civic love and passion", we have chosen a magnificent butterfly from the Madonie mountains in Sicily: the Parnassius Apollo Sicilae, or the Madonie butterfly, described and catalogued for the first time in 1891 by French etymologist Charles Oberthür.
This butterfly lives in mountain meadows over 1000 metres in altitude but may also be found between 400 m and 2000 m. It has two distinctive red spots outlined in black that stand out against its splendid white and black-speckled wings.
Mariella Palazzolo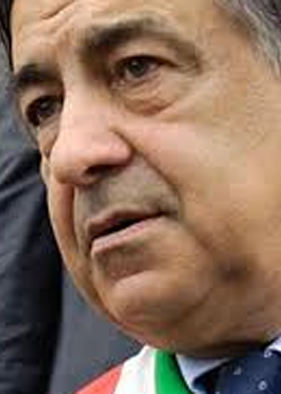 Leoluca Orlando has been Mayor of Palermo since 2012 and was re-elected in 2017 with a coalition of centre-left civic lists.
This is his sixth inconsecutive term as Mayor. His first was in 1985 when he was head of the "Six-party Executive" made up of Christian Democracy, the party Orlando was a member of, as well as the Independent Left, the Greens, the Social Democrats and Catholics from the Città per L'Uomo (The City for Man) and Italian Communist Party.
In 1991 he left Christian Democracy and founded La Rete (The Network), a cross-cutting political movement made up of representatives from different parties from the centre-left. That same year he was elected to the Sicilian Regional Assembly.
He resigned the following year to run in the parliamentary election and was elected to the Chamber of Deputies. In 1993 he won the Palermo city elections and became Mayor once again, then was re-elected in 1997.
In the meantime, from 1994 to 1999 he was a member of the European Parliament.
In 2000 he resigned as Mayor to run with the centre-left for President of the Sicily Region.
In 2002 the two parties La Rete and La Margherita merged, but in 2005 Orlando joined the centrist party Italy of Values, which he was the spokesperson of.
In 2008 he ran for political election and was elected to the Chamber of Deputies with Italy of Values, and from 2008 to 2012 was the Chair of the Parliamentary Committee investigating errors in healthcare and regional healthcare deficits.
In May 2012 Orlando was re-elected Mayor of Palermo for the fourth time, and in 2016, with the approval of the rules governing Metropolitan Cities, he also took office as Mayor of the Metropolitan City.
In September 2016 he helped found the Global Parliament of Mayors, an NGO based in Holland made up of over 50 cities worldwide.
In 2018 Orland joined the Democratic Party.
He is a professor of Public Regional Law in the Law Faculty of the University of Palermo.
He studied and lived for a few years in Heidelberg, Germany, and was awarded the Goethe Medal in 1999 for his important contribution to the spread and promotion of German, Sicilian and Italian culture.
He loves American football and since 2002 has been the President of the Italian Federation of American Football. Orlando, 74 years old, is married to Milly and has two daughters.