September 2020, Year XII, n. 9
Cateno De Luca
The Mayor in the Trenches
"The Mayor, by definition, is down in the trenches and is a local bulwark of the State."
Telos: Every time someone talks about the direct election of the Prime Minister, people use the very evocative expression "Mayor of Italy".
So, is it true that Mayors have, in the administration of their own city, more power than the Prime Minister has today?
Cateno De Luca: The first element, which for me is essential, is citizens' perception of the Mayor as opposed to the Prime Minister. This is important because the Mayor, by definition, is down in the trenches and is a local bulwark of the State, regardless of the size of the municipality they govern. So, the Mayor is perceived to be closer, more direct, and this probably also lends legitimacy to the Mayor having more direct powers and acting directly.
There is another element as well, which obviously regards the Constitution; I think there is no question that, right now, Mayors are more entitled to "issue orders" than the Prime Minister because they are directly elected by the people. I believe the Mayor, paradoxically, is more entitled than the Prime Minister because here there isn't that circular element: direct election and the automatic expression of authority. As a result, I know that it has been tried, and may happen again in the future, to create a strong figure that today effectively embodies this idea of the "Mayor of Italy". A figure invested with power directly by the people, who then becomes untouchable in the games played within the Halls of Powers. As in the case of the Mayor: when there is no longer confidence in the Mayor, new elections are held, rather than just appointing a new Mayor. Therefore, I agree the Constitution should be changed in order for the Prime Minister to be directly elected.
The breakdown in the party system has very likely been the source of people's widespread anti-political sentiment. And yet this gap between citizens and politics is not nearly as wide when it comes to the Mayor. Are your citizens still passionate about politics?
I would move this to a different level, which begins with my own experience: I was and am still anti-politics. But first we have to define what anti-politics actually means. Today, I think people are tired of the Halls of Powers, or of situations with dynamics that have nothing to do with everyday dynamics.
The real problem is this detachment. It isn't a question of politics, or of whoever happens to embody politics at that moment. It's a question of the Halls of Powers.
My favourite saying is: "either immediately change the Halls of Powers, or the Halls of Power will change you." And as an administrator, I have always operated on the basis of this principle.
I dedicate the first two years of my term to making deep changes in the Halls of Powers, to avoid not being able to change anything.
This is a real risk for all administrators when they get into city government – or for any government figure for that matter – when they set foot inside the Halls of Powers, which are like a cocoon where you are expected to adapt to a way of doing things that is almost taken for granted, inescapable.
The Halls of Powers need to be broken down concretely, they need to be dissected and restructured. When we go in, the key words in my administration are: broad restructuring of the structure and economic and financial recovery, issues that are definitely common to any place of government. We have always done this, and if that particular Hall of Power responds to the people's needs, the people respect it. I have always been elected by the people, not by politics, or rather the parties. However, at the same time, I am politics, because I make my political proposals real. This is why we need to define what it means to be anti-politics. I must admit that people see me as being anti-politics, or rather anti-political parties, the guy who changes, rather than adapts to the Halls of Power.
This is my experience, and I have also paid dearly for the consequences. But this is what the people have figured out, and this is why I am governing my third city Hall of power.
You have served as the Mayor of Messina for a little more than two years. However, your experience in politics has been rather intense: not only are you the only deputy on the Sicilian Regional Assembly to serve for three terms, you are the only Italian citizen that has served as Mayor in three different municipalities. Could you tell us, using examples from your own experience, the similarities and differences in the stories of how you became Mayor of these three municipalities?
I'll tell you an anecdote someone reminded me about last night during a reunion with the other "banditi" (in Italian the word bandito means outlaw, however by assonance it can be used, as a joke, to refer to musical band members)- as us old members of the Fiumedinisi "metropolis" band like to call ourselves. That is where I was elected Mayor for the first time.
The traditional dish of Fiumedinisi, typical of its culinary culture, is roast goat. Unfortunately, I hate goat, I hate sheep. I can't even stand the smell. I can't even be in a place where they're cooking it, even though it's an important part of our local culture. Well, I broke this "spell", this conviction of an old, multi-term Mayor. A very closed mountain environment proved to be open to electing me in May 2003. I was just 31 years old and the people of Fiumedinisi knew there was something different about my political proposal, and they didn't allow themselves to be swayed by anything else. I started at 18 years old as city councillor right in that Municipality: I paid my dues, put up posters, served on the city council, the executive council, head of the opposition and finally Mayor. At 14 I was a member of Christian Democracy (DC) and head billposter for the DC section in Fiumedinisi. I don't hide my past, I put it out there for everyone to see, because that's where I got my start and it indeed schooled me in politics. But I tried to put the things I learned then to good use. After shattering the myth of goat meat, I resigned as Mayor of Fiumedinisi on 1 July 2001 because of my first arrest on 27 June 2011 at 9:45 p.m. I resigned and a year later ran for Mayor of Santa Teresa di Riva, a little town I was totally new to. I chose it because it was the most important Municipality holding elections and as a test to decide whether or not to go on with my career in politics. I told myself: "I'll see how I do in Santa Teresa di Riva, because if things go well there, then there are chances for growth." The results in there were outstanding: I was elected Mayor in May 2012 against everyone, beating the outgoing Mayor and two other candidates, both former mayors. However, the absurd thing is that my little, independent list got 6-7%, while I, the guy running for Mayor, got 37% and won in one round. My term in Santa Teresa ended in June 2017.
I started getting ready to run in the Regional elections on 5 November 2017, but in April I had already launched the idea of running for Mayor of Messina. I said I was going to use the regional elections as a sort of break to survey how much people liked me and that I was going to assess my results in Messina in order to make my final decision on possibly running for Mayor. I was elected to the Sicilian Regional Assembly for the third time on 5 November 2017 with very encouraging results. Then I ran for Mayor of Messina and got elected. This is my relationship with the electorate: I've never had anything to hide, I don't have any skeletons in the closet, no one will ever be able to blackmail me nor will I ever be able to be influenced by any environment.
Your being elected Mayor of Messina is very interesting from a political standpoint. In fact, you ran as the head of a coalition of six centrist civic lists and were elected in a run-off election on 24 June with 65.28% of the votes, beating the centre-right candidate. Yet no one on any of these lists even got one seat. How do you explain that?
I became Mayor of Messina in a situation that has never happened before: a Mayor elected without a list reaching over the 5% needed to get a city councillor.
I made up six lists because I had to prove I had an army, at least on paper: to flex the muscles that, at that time, I didn't actually have. This was important because I was up against coalitions that had 7-8 lists. I admit, I hoped at least one, the one I was running with, would reach 5% in order to get 17 councillors out of 32. That list got 4.5%.
A lot of people accused me of diluting the vote with too many lists. But remember, I got through the first round with only 1300 votes compared to the other candidate.
If I'd had five lists instead of six, I don't know if I would've managed to get through the first round. We'll never know why, but that's the way things had to go and that's how I'm governing now. These are the tangible effects: after resigning as regional deputy, I took on the responsibility of going ahead even without a majority in the Council. Therefore, I'm governing with a two-fold risk: the normal risk of not being able to get things done – which can happen to any mayor – and the aggravating factor of not having the majority in the City Council.
You have to take every opportunity you can to create a majority in the City Council and there are various ways of doing this. I'm for using strong methods that start from the assumption that the things that need to be done need to be done period, regardless of the political parties. When dealing with financial recovery and reorganising the Halls of Powers, or rather, with issues that benefit both the Halls of Powers and the community, there shouldn't be political divisions.
I made a road map for Messina with a change of pace, with a package of proposals that has allowed us to emerge from the financial abyss and be here, today, as a city that has started to play a leading role again. We are the first in terms of European Community Funds spending and are one of the few cities with balanced financial statements. All of this despite not having a majority. How did we achieve this? The majority of the time it was through public "slaps in the face", conflict and threats of resignation – which were sometimes actually presented – to convince the City Council that political warfare is real, whereas the right thing to do is another story. So far this power struggle has been rather draining, but it has helped us achieve results that are essential to the city. The city understands and has expressed its broad approval of me, as you can see from the statistics and polls commissioned by the ANCI (National Association of Italian Municipalities) and the Italian news daily Il Sole 24Ore.
If today the Mayor of Messina is the second most popular Mayor in Italy, there surely must be a reason.
What I have been trying to do is govern according to the common interests of the people and these results are proof: we've submitted our second report on our activities, a tome that is 1500 pages long, within the required deadline.
They are important results, achieved even without a city council majority. But I admit, for Mayors with a secure majority, it's a whole lot easier…
Marco Sonsini
Editorial
There are a lot of things you can say about Cateno De Luca, the Mayor of Messina since June 2018. One thing you can't say is that he goes unnoticed.
Nor that he has any qualms about asserting his rights before citizens – something almost taken for granted – as well as the state government. The Covid-19 crisis is a perfect example. De Luca ended up in the national, and international, spotlight because of his extremely personal yet effective management of the crisis and lockdown.
In a Region where the spread of the virus was minimal, De Luca did everything he could to ensure the people of Messina were strictly observing the government decrees on staying at home (#IORESTOACASA, the Italian equivalent of #ISTAYHOME).
Even things that were rather colourful and over-the-top, like personally checking people on the street, releasing drones throughout the city and creating local versions of every single hashtag in the Messina dialect, including even more creative – but always extremely useful – interpretations.
For example, for Easter Monday, in order to encourage citizens to stay home, he changed the hashtag #IORESTOACASA to #IORUSTOACASA, which in Messinese literally means "I roast at home".
The story of how De Luca – or Cateno for the people of Messina – got started in politics is highly unusual yet indubitably successful, as you can read in his interview for PRIMOPIANOSCALAc.
His passion for politics goes way back to when he began working as a billposter for the political party Christian Democracy (DC) when he was only 14 years old in Fiumedinisi, his hometown.
At 22 he served on the City Council, then on the Executive Council, then as Mayor, then he served three terms as a deputy on the Sicilian Regional Assembly, then as Mayor of another city, and finally as the Mayor of Messina.
No other Italian citizen can boast such experience in politics and local government. Yet people see him as being anti-politics. De Luca himself sheds light on this paradox for us. He embodies the power struggle of the Halls of Powers, and this is indeed why his mantra is "either change the halls you're in immediately, or the halls will change you," a principle which has always informed his government action. Criticised by some, loved by many, De Luca is at the top the 2020 Governance Poll carried out by Italian news daily Il Sole 24 Ore measuring people's level of satisfaction with the directly elected presidents of 18 Regions and the mayors of 105 provincial capitals.
Before De Luca on the podium is Decaro, President of the, National Association of Italian Municipalities (ANCI), and he is followed by Giorgio Gori, Mayor of Bergamo (for his handling of the epidemic) and Marco Bucci of Genoa (for his handling of the collapse of the Morandi Bridge). Truly a surprising success, but that's not how he sees it.
Don't let yourself be fooled by the popular De Luca, who speaks in dialect using loud, strong words. This is just a choice of language, pure and simple: a way of speaking to those citizens who can be neither reached nor moved by overly formal, institutional language.
When he wants to use more polite, "educated" language, De Luca can use it, and use it well. And he does so in our interview: just read his answer to the first question on the powers of the Mayor and the Prime Minister or listen to his long yet compelling "confession" on a local Sicilian TV station. The programme is called Confidence, a peculiar name which however sheds light on its angle: an inside look at who Cateno De Luca really is.
What inspired our September cover? Here again, the first letter of the city merges with the animal that symbolises it.
You can clearly see the conflict of interest in my choice. Why?
Well, I'm actually from Messina and even though I know that in the waters of my strait live many different species of Mediterranean fish (tuna, garfish, suckerfish, Atlantic saury), in Messina, where I'm from, swordfish is king.
Round our parts, the season for "hunting" swordfish goes from May to September using an extremely old method, handed down from father to son for millennia. Swordfish aren't just any old fish.
They are fighters, they never give up, just like our interviewee. They are agile, intelligent and swift. Catching them is a battle of intuition, experience, strategy and sacrifice: only the most skilled fishermen win.
And Messina cuisine pays tribute to its King with a variety dishes that bring out its tenderness and aroma: swordfish "a 'gghiotta", roasted swordfish "cu sammurigghiu" and the delectable "braciole" (grilled swordfish rolls).
Mariella Palazzolo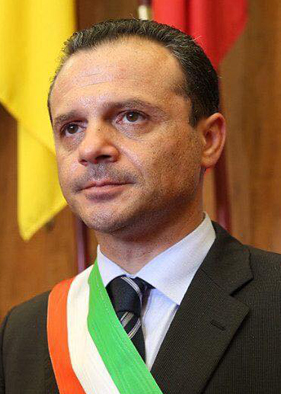 Cateno De Luca has been the Mayor of Messina since 2018, elected as the head of a coalition of centrist civic lists. He has been passionate about politics since he was a kid, when at 14 he became a member of the youth section of Christian Democracy (DC) and was the billposter for the DC section in his hometown of Fiumedinisi (ME), nestled amongst some of the highest peaks in the Peloritani mountain range.
In 1990 he was elected to the Fiumedinisi City Council for the first time, then was re-elected a second time in 1998. From 1994 to 1998 he was on the Fiumedinisi City Executive Committee and served as Mayor in 2003.
He is one of the founders of the National Federation of Autonomous Small Enterprises (FENAPI) and was made General Director in 1997.
In 2008, at the age of 36, he received a law degree "because my parents cared more about having a university graduate for a son than a deputy."
In fact, at the time, De Luca was a deputy in the Sicilian Regional Assembly, elected in 2006 with the Movement of the Autonomies civic lists and re-elected in 2008.
In 2012 he became the Mayor of Santa Teresa Riva, a coastal municipality in the Messina province. In 2017 he was elected to the Sicilian Regional Assembly for the third time, but he resigned the following year in 2018, when he won the municipal elections and became Mayor of the Metropolitan City of Messina.
What does he do in his free time? He writes! His most recent books are: 'Lupara giudiziaria. Nella dialettica processuale un arresto ci sta!' (2018); 'Origini e prospettiva dell'Autonomia Siciliana. Breve testimonianza del saccheggio della Casta', and the interesting and useful 'Manuale dell'aspirante amministratore comunale' (Handbook of the wannabe municipal administrator).
He loves being in contact with nature. He enjoys gardening and taking care of his animals, yet without ever forgetting his old love of music: he used to play the clarinet in the Fiumedinisi band.
De Luca is 48 years old, married to Giusy and has two children, Gabriele and Verdiana. He is extremely active on the social networks and has loads of followers on his Facebook page!
Marco Sonsini