July 2019, Year XI, n. 7
Clover Moore
Climate Change. Sydney Lord Mayor is ready for battle
"A major and critical challenge for us here at the City of Sydney is in advocating to the NSW and Australian Government to take action on climate change. Australia will be one of the worst affected nations by climate change and we will experience the most global warming in the decades to come (…) Meanwhile, we have taken aggressive action on climate change for 12 years and we are seeing outstanding results"
Telos: Every time someone talks about the direct election of the Prime Minister, people use the very evocative expression "Mayor of Italy". So, is it true that a Mayor has, in the administration of his or her own city, more power than the Prime Minister has today?
Clover Moore: Of Australia's three tiers of government, local government is the level that works most closely with the community. As Lord Mayor of Australia's global city for fifteen years, I am proud of my role in leading the development and implementation of our internationally renowned long-term plan, Sustainable Sydney 2030. By working closely with residents and businesses in our local government area, we've championed practical and progressive public policy based on community representation and demonstrated what an open and accountable government looks like.
Local government leaders can have an enormous and positive impact on their community and that's what we have demonstrated at the City of Sydney – developing a global reputation for delivering award-winning facilities, protecting open space, promoting design excellence, delivering walkways and cycleways, championing sustainability, supporting and encouraging creativity, and initiating progressive solutions to the problems all global cities face.
The crisis of the political parties is probably the origin of the globally spread anti-political sentiment. However, this theory seems to be less true in the relationship between citizens and Mayors. Do you agree?
Citizens around the world have been let down by their elected leaders on the most critical issue that we face together – climate change. Here in Australia, this includes successive State and Federal Governments, who have failed to take meaningful action despite irrefutable evidence. In 2007, when we consulted with the community on our long-term plan Sustainable Sydney 2030, residents and businesses overwhelmingly called on us to take action on climate change, so we responded with practical actions and strategies to reduce our emissions, waste and overall impact on the environment. We are now recognised as a global leader when it comes to cities taking climate action. What we have shown here at the City, is that a good relationship between citizens and government is fostered through genuine community consultation and evidence-based, progressive policy that is developed in response to the community's priorities and concerns.
You have been the Lord Mayor of the City of Sydney since 2004 and you are currently the longest serving Lord Mayor of Sydney since the creation of the City of Sydney in 1842. You have also been a Member of Parliament. An all-round politician. Is there a recipe for such success you would like to share with us?
I am proud to be the longest serving woman and the longest serving Independent in the NSW Parliament as well as the longest serving Lord Mayor of Sydney and the first woman popularly elected to the role. I didn't set out to become an elected representative, I started out as a young mother who had returned from London and thought our local parks in Sydney's inner city should be more than concrete dust bowls with cyclone wire fencing!
A local Councillor told me that we couldn't have grass, because it would be too difficult to sweep up the broken glass. After forming a residents' action group to address the parks and other local issues, especially shocking congestion on residential streets, a local election came around in 1980. When I couldn't find anyone else to stand, I thought I might – and to everyone's surprise, I was elected! Each time I have been elected to represent a new area, my vote has improved. For over eight years, from March 2004 to September 2012, I was democratically elected in the dual role of State MP and Lord Mayor of Sydney until legislation was passed that prevented me from continuing in both roles. I am the only elected official in Australia to have laws designed specifically to force me out of office – which in a democracy, is a decision that should be made by voters, not by the major parties. When this happened six years ago, I chose to remain Lord Mayor.
I don't have a single 'recipe for success' to share, but I do encourage people who care about their local community and the future of their neighbourhoods to get active and involved and stand for public office. If they act with integrity, consult with their communities, work hard, honour commitments, and get outcomes, they will be supported and elected! They will be able to defend the public domain, open space, and heritage as well as work for equal rights and opportunities for all.
Right now, I am inspired by our next generation of climate leaders around the world – student leaders who are too young to vote, but are standing up to their governments and demanding action on accelerated global warming. I hope politicians around the world start to listen…
What are the major challenges you have to face as the Lord Mayor of Sydney and how have you dealt with them?
A major and critical challenge for us here at the City of Sydney is in advocating to the NSW and Australian Government to take action on climate change. Australia will be one of the worst affected nations by climate change and we will experience the most global warming in the decades to come.
We witness the reality of climate change in Australia on our television screens every day, with millions of dead fish in our rivers, terrible droughts in NSW, the bleaching of the world heritage Great Barrier Reef, floods in Queensland, and devastating fires in the old growth forests of Tasmania.
But then we have a Federal Government who is supporting the Adani Carmichael coal mine in Queensland; who dismantled an effective carbon tax in 2013; slashed renewable targets and abolished the Independent Climate Change Authority! And in NSW, our State Government has increased land clearing by 800%; approved an expansion of a coal mine that could undermine Sydney's water supply and is building WestConnex – a major toll road that will congest neighbourhoods, impact on air quality and increase emissions.
Meanwhile, we have taken aggressive action on climate change for 12 years and we are seeing outstanding results.
In 2007, City operations became carbon neutral and we were the first Australian city to install energy-efficient LED street lights on a large scale as part of a $7 million project. We've replaced 6,000 city-owned street and park lights, reducing our emissions by over 2,000 tonnes a year and saving nearly $800,000 a year in electricity and maintenance costs.
Since 2006, our economy has expanded by 37% and, with business as usual, our greenhouse emissions would have increased by 50%. But instead we have reduced emissions by 25% in our own operations and city-wide by 20%. We have installed 4,261 solar panels across 38 of our own buildings, one of the largest rooftop solar programs in Australia. We have also built some of Australia's largest urban stormwater recycling infrastructure – capturing hundreds of thousands of litres of stormwater every day to wash clothes, flush toilets, and water parks and gardens. We're also proud of our work with owners and residents in apartment buildings, office tenants, and the accommodation and entertainment sector, where we work with our corporate and residential partners to reduce emissions, waste, and water use.
Marco Sonsini
Editorial
CLIMATE, climate, climate and more climate. A woman4climate. Here is the description that best suits Clover Moore, the Lord Mayor of Sydney. A politician that began her battle in defense of the climate when perhaps not even the parents of Greta or Howey Ou, the only Chinese girl who participated in the strike for the climate, were born. She pioneered a grassroots approach to politics, effectively side-stepping the traditional big political party way of looking at the world. How? By actively engaging with the community at a personal level, by listening to her constituents, and by working with integrity to represent the community's interests in Town Hall, she has built strong community alliances to deliver substantial progressive reform. Well, you may say, this is contemporary politics, a politics that approaches the individual voter, including through social media. Maybe so, but Moore started working like that in 1980. Everyone, even the most bitter political opponents, describe her as 'close to and part of the community she represents. She is fiercely independent, highly principled, and passionate about the city's potential'. Moore's political vision was not only that of grassroot politics, but also in having identified, from her very first steps in the institutions, the climate issue as the fundamental political issue at the global level. This commitment culminated on 24 June, with the approval of a motion in the City Council declaring the state of climate and environmental emergency because the rise in global temperatures "represents a serious risk for the people of Sydney", and therefore climate change must be placed at the centre of political decisions and planning. The City of Sydney has set a target of reducing its emissions by 70% by 2030, and achieving zero net emissions by 2050. For Australia, says Lord Mayor in her interview with PRIMOPIANOSCALAc, tackling global warming immediately is a necessity. Last January, the country had to cope with extraordinarily high temperatures, up to sixteen degrees above average. The people of Marble Bar, in the north-west of the country, had to withstand temperatures above 40 degrees for 22 days in a row, with peaks of 50 degrees, while in Noona, in the south-east, the night temperature of 35.9 degrees was the highest minimum ever recorded. Although the climate is becoming increasingly hot and Australia is a signatory to the Paris Accord, Australia's greenhouse gas emissions have increased in the last four years. "This emergency affects our communities, and its impact is felt by all of us, especially the poorest of us, the vulnerable, the marginalized and those living in remote communities," says Moore. The motion calls on the federal government to respond urgently to the climate emergency by restoring the CO2 tax and establishing a "Just Transition Authority", whose role would be to ensure that Australians working in fossil fuel industries can find alternative employment as soon as possible. Australia's beautiful nature is therefore at risk, including the Great Barrier Reef. And because of its location on the ocean we decided to dedicate a summer (for us) cover to the city of Sydney with represented one of the sports symbols of Australia, surfing. Surfing culture has influenced art, music and fashion and has become a way of life. Especially in Sydney, as Russell Crowe, the author of the phrase on July's cover, would confirm. As an imaginary jukebox, he promises to play all night long about his city, even for just 20 cents.
Mariella Palazzolo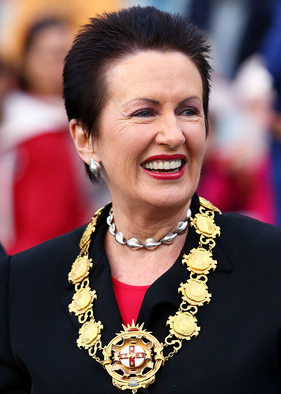 Clover Moore is the Lord Mayor of Sydney since 2004. The first woman popularly elected Lord Mayor of Sydney and a champion for progressive policies.
An indefatigable and very successful campaigner, whose support in her community continues to grow. Clover Moore was Alderman of the South Sydney City Council from 1980-81 and Alderman of the Council of the City of Sydney 1981-87. Clover was also elected as an Independent to the New South Wales Legislative Assembly seat of Bligh in 1988, 1991, 1995, 1999 and 2003. In 2007 she was elected to the new seat of Sydney and relinquished it in 2012. In the 1990s she held the balance of power in the Legislative Assembly, with two other independents. She is renowned for her hard work and her community attachments.
Moore resigned as a state MP as a result of new state laws (labelled in the media as the "Get Clover" laws) preventing dual membership of state parliament and local councils. This resulted in a 2012 Sydney by-election on 27 October in which she endorsed independent candidate Alex Greenwich of the Australian Marriage Equality advocacy group who won in a landslide victory.
Clover Moore was born in Sydney, one of three daughters of Kathleen and Francis Collins. She was educated at Loreto College, Kirribilli and Elm Court Dominican Convent, Moss Vale. She matriculated to Sydney University, where she studies arts (B.A. Dip.Ed.) and lived at Sancta Sophia College. After graduation she began work as English/History teacher at Fort Street High School. And then lived and taught in London and Europe for several years. The Moores returned to Australia in 1975.
Clover married Peter Moore, an architect, in 1972 and they have two children, Sophie and Tom. When she was officially enthroned as Lord Mayor of Sydney on 2004, her husband of 32 years, said that he would be preparing himself for the role of lady mayoress: "I'm used to being Clover's handbag," the retired architect joked.
Marco Sonsini