December 2017, Year IX, n. 12
Valerio Massimo Manfredi
A contemporary Odysseus. My name is Valerio Massimo
"History is the retrieval of collective memory; memory turns into awareness and then into identity. This kind of activity is crucial, because no-one can live without memory or identity".
Telos: History is memory. A memory that historians try to render as objectively and truthfully as possible by studying documents. How do you interpret your role as a historian who is also a writer?
Valerio Massimo Manfredi: They are two different professions, but not dogmatically so. Historical texts also have narrative and theatrical passages (for example the speeches by the Melians and Athenians during the Peloponnesian War narrated by Thucydides). Likewise, literary texts can have extremely accurate and very effective historical reconstructions (Anna Karenina by Tolstoy, The Betrothed by Manzoni, I, Claudius by Robert Graves) or may even precede professional historians in their anticipation or rehabilitation of historical figures. Personally, I'm not a role player, I'm only the author of different kinds of literary genres that can be judged by those who read them, not by those who write them.
History and cultural roots are elements which, like it or not, are intertwined. How can we find a balance between emergent nationalisms and an irreversible acceleration towards globalisation?
History is the retrieval of collective memory; memory turns into awareness and then into identity. This kind of activity is crucial, because no-one can live without memory or identity. Globalisation is a sort of centrifuge, fragmenting, dissolving and melting everything into a borderless and limitless plasma in which the individual sees himself as a nonentity, lost in the turbines. The fact no-one notices him generates his sense of solitude and a desperate need for visibility. Just like saying: "I exist!"
Your biography reads like a novel. You began as an archaeologist, travelling around the world to dig and unveil the great mysteries of history. Isn't leading an archaeological dig perhaps a wee bit dangerous? Could you rustle up a few memories for us?
I'm still an active archaeologist, even if I keep my scientific research nicely under wraps to avoid attracting unwanted attention or inappropriate sarcasm. In actual fact there are no mysteries to unveil in archaeology, only problems to solve and the search for documents that can shed light on the more obscure points of historical narrative. It's true, I've lived through many dodgy situations: I've been arrested twice, risked suffocating in a tiny grotto where the ground was covered in a fine dust like talcum powder wet with the urine of ibex. When I was inside the ziggurat in Nimrud I found myself enveloped by a swirling cloud of bats I'd woken up with my electric torch. I managed to hold my breath until I got into the open air, well aware that if I'd breathed I would have killed myself. Nimrud is one of the most important archaeological sites in Iraq. The local ziggurat, typical of the polytheist religions of Mesopotamia, is one of the most important monuments in Nimrud; it is a sacred building built in the shape of a pyramid – but with many less levels than the ones in Egypt. It was built around 900 B.C. and was one of the few surviving ziggurats in Mesopotamia because they're made of mud, and most of them had been lost. But in 2016, ISIS razed Nimrud to the ground, completely destroying the ziggurat where I had my little adventure. UNESCO, the UN agency that protects and promotes cultural heritage around the world, called the destruction of Nimrud by the Islamic State a "war crime".
You successfully merge science and literature in a literary publication. And yet the term divulgation in a very snobbish literary country like Italy raises more than one eyebrow. How do you react to this?
I don't, because not everyone can afford to be a snob. In actual fact, an opinionated eyebrow is often just a way to admit that your own works are irrelevant and that culturally speaking you are rather obscure. It's not worth reacting, because many of these people are so unknown that they'd scornfully label anyone who has more than a dozen contacts as a divulger. Obviously considering him a bungling, superficial amateur. In actual fact a divulger is nearly always an amateur who thinks he understands the language used by specialists and can interpret it for laypersons – hence the term. I don't think this applies to me. I've published roughly forty scientific books including four monographs, including in English and Spanish. Although I use simple words to express myself, that doesn't mean I'm trivial if my readers are not specialists. Let me give you a few examples. I was invited by Prof. Robin Lane-Fox to hold a seminar at New College Oxford. I have also given a lectio magistralis at Pembroke College Cambridge and another one at the National University of Canberra. I've also taught Etruscology for a semester at the Sorbonne in Paris. I've held a seminar at the UCLA Dept. of History and have attended conferences in all the major universities in the world. In his scientific biography of Alexander the Great, Claude Mossé cites whole pages of my trilogy about the Macedonian king – and this happens very rarely. However, I don't consider being called a divulger an insult at all. On the contrary.
Marco Sonsini
Editorial
For Primo Piano Scala c, 2017 could be considered the year of the Manfredi interviews. We interviewed two. The second, our guest in this last issue, is internationally famous. He is one of the best writers and interpreters of historical novels, a scholar who has coupled his pet topic, archaeology, with his passion for history, using them as a source of inspiration for his wonderful, extremely captivating narratives. Apart from the above, Valerio Massimo Manfredi is also a university professor, journalist and television showman. But he is also, and above all, enchanting. During our conversation Manfredi explained his writing method as a serious, scrupulous historian. The reconstructions in his novels are extremely accurate. We could say he writes about verisimilitude, based on documented reality. He loves history, but has chosen narrative. Why? Because a historian has to act like an impartial judge; to recount the past he has to be a cold, impassive witness with only one objective in mind: to come as close as possible to the truth. Narrative, instead, is completely unrestricted, but it does have to be plausible, respect acquired truths, and strive to be as expressively perfect as possible.
Valerio Massimo's life has been one of study, writing and adventure (we wonder whether he isn't the personification of the Latin locution nomen omen); although he has never abandoned his profession as an archaeologist and scholar of antiquity, he continues under false pretences – as he himself admits – so as 'to avoid unwanted attention or inappropriate sarcasm'. But he doesn't hold back when we ask him to tell us about any scary moments he's had while searching for, or actually being inside the treasures of the past. But don't be fooled, Manfredi's idea of archaeology differs from Indiana Jones'. He says its task isn't to 'unveil mysteries', but solve problems using decisive documentation.
But our interview wasn't only about the past. We shifted to the present to ask him his opinion about how to reconcile the tension between emergent nationalisms and the momentum towards globalisation. He told us that only history can save us; history considered as 'the retrieval of collective memory' preserving the uniqueness and inimitability of collective experience. Only this will save our identity. Then we badgered him a little about the raised eyebrows of the snobs who consider him simply a divulger. His answer? Well, you'll have to read the interview to find out.
This December issue, focusing on the epic gestures of the heroes of the past and the importance of our historical memory, is an opportunity for all of us here at Telos to wish you Happy Holidays and a peaceful 2018.
Mariella Palazzolo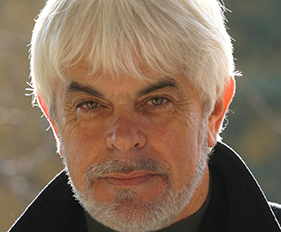 Valerio Massimo Manfredi is an archaeologist, scholar of antiquity, writer, university professor, journalist and much more. He has taught and held seminars in several Italian and foreign universities including the Sorbonne in Paris, Loyola University Chicago, the Catholic University in Milan, New College Oxford, the University of Havana, the Australian National University in Canberra, the Bocconi in Milan and Pembroke College Oxford. He has led scientific expeditions and performed excavations in many countries, working in collaboration with prestigious research institutes and publishing numerous articles and essays in international scientific journals.
He has written twelve essays including La Strada dei Diecimila, I Greci in Occidente, La Tomba di Alessandro and Andare per l'Italia etrusca and has translated and commented Anabasis by Xenophon. As an author of fiction, he has published twenty-four novels including the Alexander trilogy, the latter translated into thirty-nine languages in seventy-five countries. He is the most widely-read and translated Italian writer in the world and has sold over 20 million books (translated in twenty-five languages in thirty-eight countries). His novel The Last Legion has been turned into a film produced by Dino De Laurentiis and Universal Pictures has bought the rights to his Alexander trilogy. He has presented documentaries for important international networks such as National Geographic, Discovery Channel and the BBC, as well as cultural programmes for La7 and Rai 3.
In 1999 he was voted "Man of the Year" by the American Biographical Institute, Raleigh, North Carolina; in 2003 he was made Commendatore of the Republic motu proprio by President Carlo Azeglio Ciampi. Manfredi graduated in Classical Humanities at Bologna University after which he specialised in Topography of the Ancient World at the Catholic University of the Sacred Heart in Milan.
He lives in a house he built himself in the countryside in Piumazzo, between Modena and Bologna, in the Emilia Region. His house is a stone's throw from that of his ancestors. He lives here with his wife Christine who is from Chicago and used to teach English to the cadets at the Academy in Modena. She also translates his books. He has two children: Giulia, an artist, who lives in Berlin, and Fabio Emiliano, a writer, who lives in Rome. They travel the world, but Piumazzo is always their Ithaca, the place they come back to.
Marco Sonsini